This kid-pleasing idea is not only fun, it's nutritional and a great way to use your left-over mashed potatoes!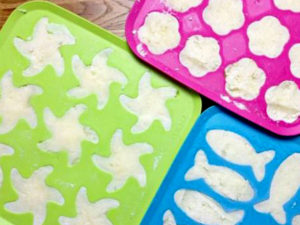 Spoon your mashed potatoes into ice cube trays and freeze.
When ready to eat, pop your frozen shapes out onto a non-stick baking tray.
Spritz the top of each one with spray olive oil and season with salt and pepper.
Pop into a pre-heated oven at 180° for 18 minutes (or until golden brown on top).