Whip up these easy and tasty appetizers for your next party.
2 Large Summertime Russet Potatoes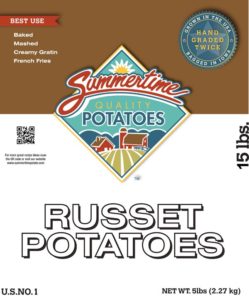 2 Eggs
1/4 C All-purpose Flour
Salt & Pepper
1/2 C Plain Bread Crumbs
Peel and cube 2 large baking potatoes. Cover with cold, salted water in a saucepan. Bring to a boil. Lower heat and simmer for 15 minutes. Drain, return to pot and steam for 1 minute. Add salt and pepper, and mash potatoes well. Stir in 1 egg yolk and let cool. Put remaining egg white and another whole egg in a bowl, beat with a fork.
Combine flour and bread crumbs, mixing well.  Salt and pepper to taste.
Form 1 T of the potato mixture into a ball and flatten into a 1/2″thick patty. Repeat with remaining mixture. Turn patties, one at a time, in flour, then egg, then bread crumbs and place on a plate.
Heat vegetable oil in a large saucepan to 350°F. Cook half of croquettes, turning once, until golden brown, 2 to 3 minutes. Remove with a slotted spoon; drain on paper towels. Repeat with remaining croquettes.