This Thanksgiving recipe is a healthier take on a traditional sweet potato casserole. Its' lower in fat, but just as satisfying. The best part? Unlike most sweet potato casserole recipes, this one uses healthy sweet potato skins. Why does saving the skins make this recipe healthier? There's a lot of nutritional value in those skins, so when you can, leave 'em on, and eat 'em up!
4 Summertime Sweet Potatoes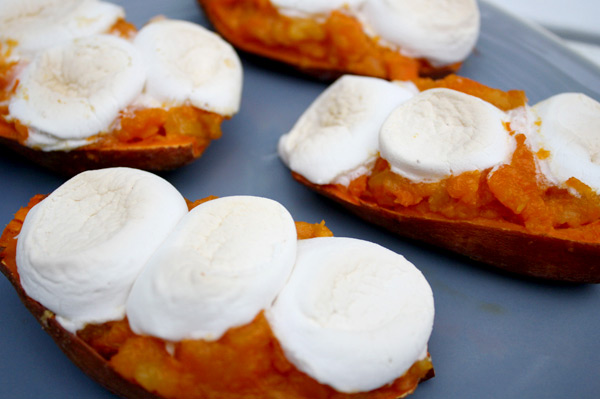 3/4 cup canned crushed pineapple, drained
1/4 cup brown sugar
1/4 cup orange juice
1 bag of marshmallows
Cook the sweet potatoes in the microwave according to the package instructions. While the potatoes cook, preheat your oven to 350 degrees.
When the potatoes are cool enough to handle, slice them in half lengthwise and scoop out most of the flesh.
In a large bowl, mash the sweet potato flesh with the pineapple, brown sugar, and orange juice. Spoon the potato mixture back into the potato skins. Top each one with a few marshmallows.
Bake for 20-30 minutes, or until the marshmallows turn slightly brown on top.
Please follow and like us: