Start the day off right with this Breakfast Bake. Potatoes, cheese, ham, asparagus, tomatoes, and sunny side up eggs make this a satisfying, hearty dish.
12 sprigs asparagus
12 grape tomatoes
1 3/4 cup milk
3/4 cup egg substitute
3/4 rounded tsp. table salt
3/4 rounded tsp. black pepper
1/4 tsp. cayenne pepper
5 tbsp. instant potato flakes
1/3 cup minced onion
1 tsp. minced garlic
1 lb white or red Summertime potatoes, cooked & diced
2 cups shredded Cheddar and Monterey Jack cheese
1 cup diced cooked ham
4 large eggs
1/8 tsp. kosher salt
1/8 tsp. coarse black pepper
Preheat oven to 350 degrees F.
Wash and dry asparagus and tomatoes. Cut and discard the bottom (flat end) 2 inches of the asparagus. Cut the remaining into 1″ pieces. Slash each tomato lengthwise but keeping it intact. Working in a large bowl, squeeze the juice out of the pulp. Set tomatoes aside.
In a medium bowl, add milk, egg substitute, table salt, black pepper, and cayenne. Whisk until frothy. Add potato flakes, onion, and garlic. Whisk to blend.
Spray a 9" x 9" inch baking dish with cooking spray. Add potatoes. Add half of the cheese. Quickly whisk the milk mixture and poor half over the cheese, making sure to scoop up some the solids that settled to the bottom of the bowl. Add ham, asparagus, tomatoes, and the remaining cheese. Top with the remaining milk mixture. Bake for 35 minutes.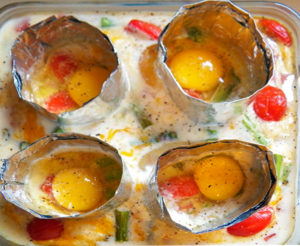 While the casserole bakes, make aluminum rings to mold the eggs: Tear 4 strips of 12" x 5" inch wide aluminum foil. Fold each one in half, lengthwise. Repeat fold. Bring two ends together and make a 1″ fold onto itself to close ends. Holding the fold together, make another 1/2″ fold. Open up the ring. It should be approximately 2- 3/4″in diameter. Generously grease both sides with oil. Remove casserole from the oven. Place aluminum rings in each quadrant, pressing down slightly into surface. Break an egg into each one. Sprinkle with kosher salt and coarse black pepper. Bake for about 25 minutes or until egg is set, but yolks are still runny.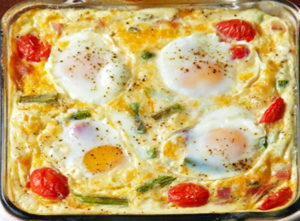 The custard layer should also be firm in the middle. Remove rings immediately.
Allow to set about 15 minutes before serving.
Please follow and like us: