Diced green peppers and pimentos give these Christmas Cheesy Potatoes a festive look. They're the perfect, comforting side dish to your holiday meal.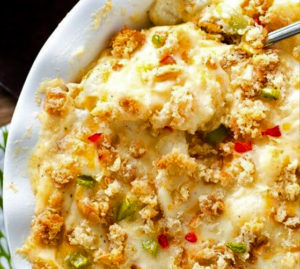 1/4 cup butter
1/4 cup all-purpose flour
1 teaspoon salt
1/8 teaspoon pepper
2 1/4 cups whole milk
1 cup shredded sharp cheddar cheese
1/2 cup finely chopped green peppers
4 cups peeled, cubed and cooked Summertime potatoes
1/4 cup chopped pimentos
1 cup bread crumbs
2 tablespoons melted butter
In a medium saucepan, melt the butter over low heat. Add the flour, salt and pepper, then use a whisk to blend it in. Gradually stir in the milk. Cook and whisk this mixture over medium-low heat until it is smooth and thickened, about 5 minutes. Remove from the heat.
Add the cheese to the sauce pan and mix until smooth.
In a lightly greased 1 1/2 quart casserole dish, add the cooked potatoes, green pepper and pimentos. Pour the cheese sauce over the top of the potatoes.
In a small bowl, combine the bread crumbs and the melted butter. Mix well.
Sprinkle the bread crumbs overtop the cheese covered potatoes. If you reserved a few of the green peppers and pimentos, add them to the very top of the casserole.
Bake at 325 degrees for 40-45 minutes, or until the casserole is bubbly and heated through.
Please follow and like us: