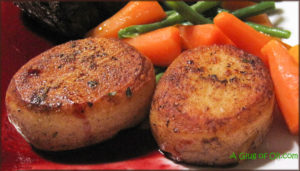 Perfect for that special occasion or dinner party, Fondant Potatoes are much easier to make than you might think.
To serve 2 you will need:
4 large Summertime White or Golden Potatoes
Olive Oil
½ Stick of Butter
Thyme
salt and pepper to season
I cup Chicken Broth
Preheat oven to 400 degrees
Peel the potatoes and slice the sides off to flatten.  Peel into sort of barrel shapes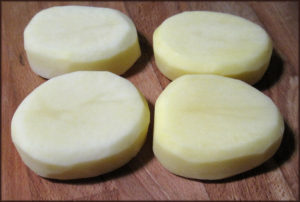 (but with two flat sides). Using a sharp knife, take the edge off all the way round. Repeat on the other side of each potato. This will stop the edges burning. Season the potatoes and heat up oil in a cast iron frying pan just big enough to take all four.
When the oil is nice and hot, add the potatoes and cook for a couple of minutes before turning.   They should be nicely colored on the one side and lightly browned on the other.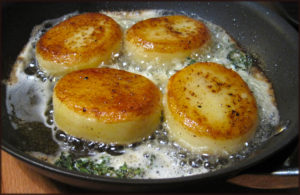 Making sure the more colored side is facing up, add the thyme sprigs and butter. Leave to cook for about 5 minutes over a medium/low heat. The butter will foam nicely.
Add enough chicken broth so that it only comes half way up the potatoes. Pop the frying pan into your Preheated oven for about 15 to 20 minutes, by which time they will have soaked up the broth.  Make sure they're cooked through and serve straight away with whatever you fancy.