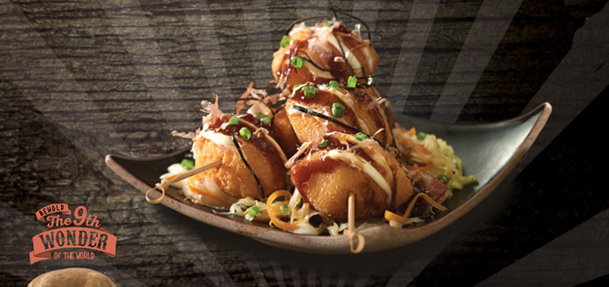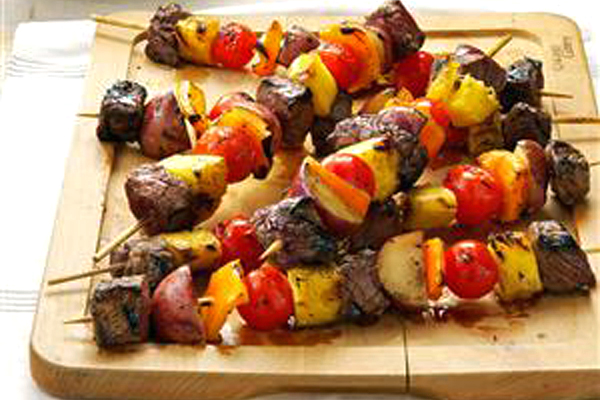 They're summery, but these kabobs really stick to your ribs. A microwave makes quick work of cooking the potatoes, so grilling is done in a flash.
1 pound beef top sirloin steak, cut into 1-inch cubes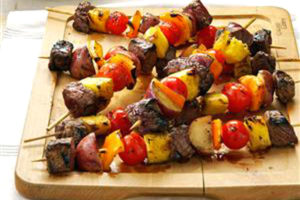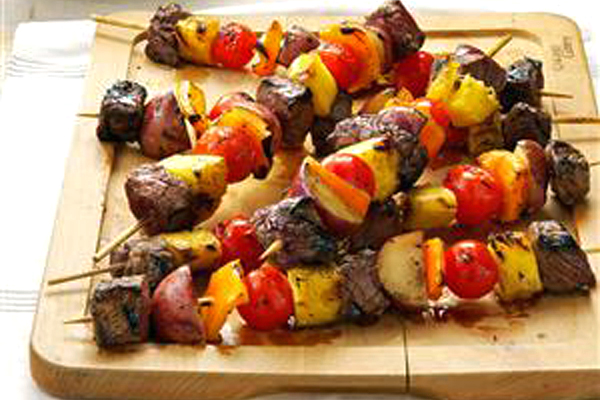 1-1/2 teaspoons steak seasoning, divided
1 garlic clove, minced
1 cup cola
3 Summertime Potato Baby Red Potatoes (about 8 ounces), cubed
1 tablespoon water
1 cup cherry tomatoes
1 medium sweet orange pepper, cut into 1-inch pieces
1 teaspoon canola oil
1 cup pineapple chunks
Sprinkle beef with 1 teaspoon steak seasoning and garlic. Place cola in a large bowl. Add beef; toss to coat. Set aside.
Place potatoes and water in a microwave-safe bowl. Microwave, covered, on high for 4-5 minutes or just until tender; drain. Return to bowl. Add tomatoes, pepper, oil and remaining steak seasoning; gently toss to coat.
Drain beef, discarding marinade. On eight metal or soaked wooden skewers, alternately thread beef, vegetables and pineapple. Grill, covered, over medium heat or broil 4 in. from heat 6-8 minutes or until beef reaches desired doneness and pepper is crisp-tender, turning occasionally.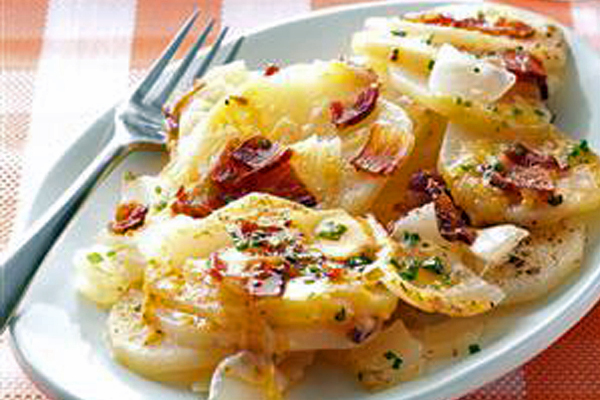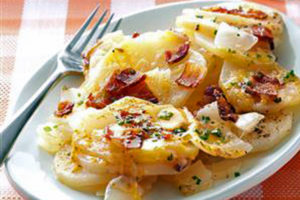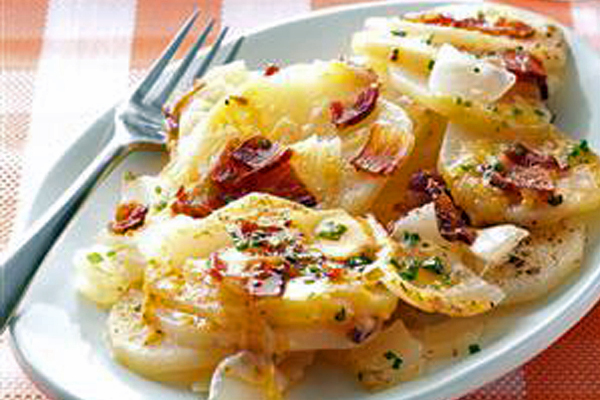 Hot off the grille! These potatoes are sure to be a hit!
6 large Summertime red potatoes, sliced 1/4″ thick
2 medium onions, chopped
1/3 cup grated Parmesan cheese
1 cup (4 ounces) shredded sharp cheddar cheese, divided
1 cup (4 ounces) shredded part-skim mozzarella cheese, divided
1 pound sliced bacon, cooked and crumbled
1/4 cup butter, cubed
1 tablespoon minced chives
1 to 2 teaspoons seasoned salt
1/2 teaspoon pepper
Divide potatoes and onions equally between two pieces of heavy-duty foil  that have been coated with cooking spray.
Combine Parmesan cheese and 3/4 cup each cheddar and mozzarella; sprinkle over potatoes and onions. Top with bacon, butter, chives, seasoned salt and pepper. Bring opposite ends of foil together over filling and fold down several times. Fold unsealed ends toward filling and crimp tightly.
Grill, covered, over medium heat for 35-40 minutes or until potatoes are tender. Remove from the grill. Open foil carefully and sprinkle with remaining cheeses.