Fire up your grill and get ready for some serious smoke.
Just because these are quick and simple to put together, it doesn't make them any less impressive. The crackling of the skin is a great contrast to the creamy innards, with the rosemary adding a nice fragrance and flavor. The best is when a nice piece of charred potato skin is mixed in, giving a hint of grill that made these such a nice use of the remaining heat that may have otherwise gone unused.
1 pkg Summertime Medley Pack Potatoes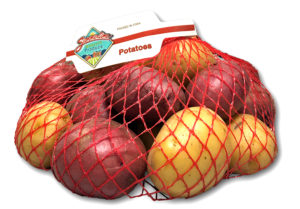 Olive oil
Rosemary
Salt & Pepper to taste
Scrub potatoes and place in a medium saucepan. Add cold water to completely cover potatoes. Bring water to a boil over medium-high heat, add 1 tablespoon kosher salt, reduce heat to a simmer. Cook potatoes until a paring knife can slide into center of potato with no resistance, about 20 minutes. Strain potatoes and let sit until cool enough to handle.
Arrange potatoes on a baking sheet. Gently smash each potato with the palm of your hand until split open, but not breaking apart. Brush potatoes with olive oil and season to taste with salt, pepper, and rosemary. Flip potatoes, oil and season second side.
Light one chimney full of charcoal. When all the charcoal is lit and covered with gray ash, pour out and spread the coals evenly over entire surface of coal grate. Set cooking grate in place, cover gill and allow to preheat for 5 minutes. Clean and oil the grilling grate. Place potatoes on grill and cook until lightly browned and crisped, about 5 minutes per side. Remove potatoes to a platter, sprinkle with rosemary to taste, and serve immediately.