Potatoes have always made a great pair with cheese and onion so these ingredients are a must as well. As for the spices besides garlic you can add any others you like best, like paprika, chili, herbs and so on.
Here is a quick and easy potato recipe t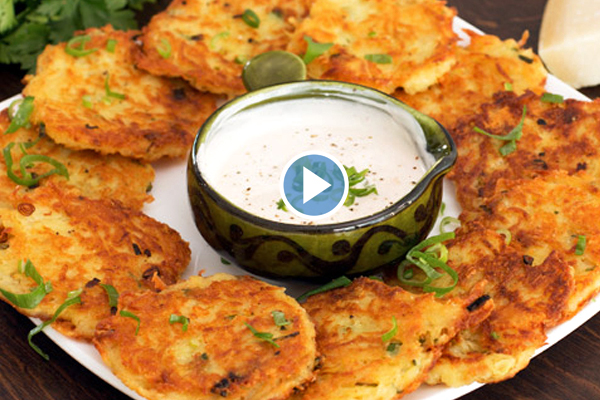 hat you can either prepare as a side dish or simply as a snack.  For these pancakes the potatoes are not cooked in advance but grated and squeezed well of any excess liquid. This step is really important to ensure getting delicious crispy pancakes on the outside.
Ingredients
1/2 cup  Cheddar cheese
1/2 cup  Parmesan cheese
3 green onions, chopped
1/2 tsp  garlic powder
1/4 cup all-purpose flour
2 eggs, beaten
1 tsp salt
Freshly ground black pepper
1/4 cup oil, for frying
1/2 cup sour cream
1 tbsp.  chili garlic sauce
Using the large holes of a grater, grate cheese and potatoes. Transfer the potatoes into a kitchen towel and squeeze as much liquid as you possible can. Place into a large bowl and add cheeses, onion, garlic powder, flour, salt, pepper and eggs. Stir to combine. Heat oil over medium high heat. Use an ice cream scoop to take equal amounts of potato mixture and add to the pan. Use the back of a spoon to flatten the patties. Cook about 3 or 4 patties at a time until browned about 4 minutes per side. Transfer the pancakes to a plate lined with paper towel to remove excess oil.
Combine sour cream and chili garlic sauce to make dip. Serve the potato pancakes while still warm.